The ExCS
We understand that contemplating leaving Christian Science can be fraught with anxiety and the fear of losing community. This site offers support resources to help individuals negotiate a transition in a manner that best fits their needs and convictions.
---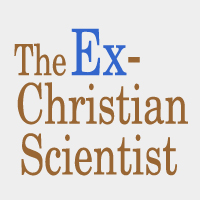 We are surveying! Please click the link below, and answer a few questions about your CS and Ex-CS experiences. Results coming in the near future!
https://goo.gl/forms/6sBKStNMOVqF8M4i2
Only the ExCS Admin Team will be able to see the results of the survey.
Looking for a particular topic? Visit the INDEX!
---
---
 Questioning Christian Science & want to talk with someone?
Please don't hesitate to reach out: 
exchristianscientist@gmail.com

For those of you who are not and have never been "in" Christian Science. For the curious who would like to learn more. For those of you with friends who were raised in it or loved ones who have "discovered" it and you're trying to understand. 

For helping family still in CS with health issues.
---
Health Care for former Christian Scientists.
---